Today's Successful Photo Business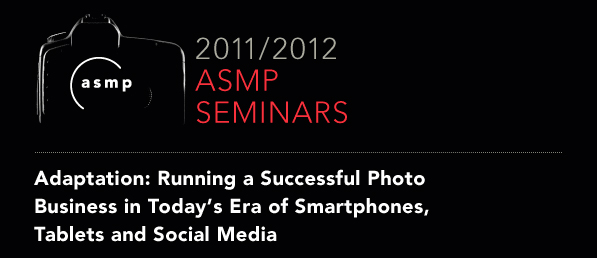 Seminar Topics
* A thorough overview of the new publishing and advertising landscape with an emphasis on channels opening up on mobile devices.
* Insight into new business models and business opportunities along with the tools for evaluating what's right for you and your clients.
* A new perspective on how valuable your skills as a photographer and visual communicator are in this new landscape.
* Real-world examples of how photographers today are building profitable, sustainable businesses by strategically pairing their strengths with client's needs.
When:
Wednesday, April 18, 2012
7:00 PM to 9:00 PM
Doors open half an hour earlier.
Where:
MICA – Maryland Institute College of Art, Main Building Room 110, 1300 W. Mt. Royal Ave.
Baltimore, MD
Categories:
American Society of Media Photographers ASMP, ASMP Baltimore, ASMP Central Virginia, ASMP DC
ASMP, ASMP Baltimore, ASMP Central Virginia, ASMP DC, ASMP DC business, Baltimore Photographers, DC Photographers, education, Events, Photographer, Photography Semminars, training, Virginia Photographers, workshops