SOS & Swap Meet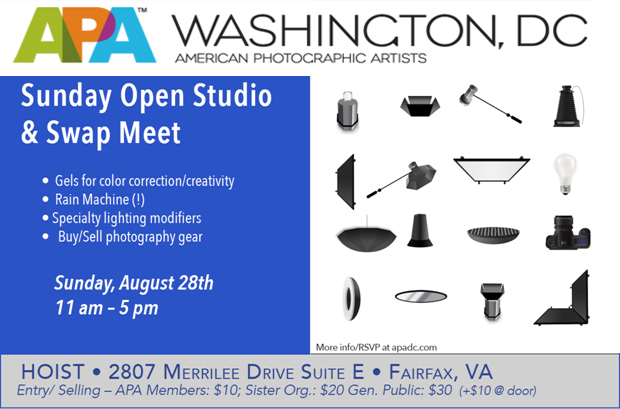 In this iteration, we'll be exploring the use of lighting gels for both color correction and creative expression; powering up a custom built RAIN MACHINE for a demo shoot; and, as always, exploring different lighting mods and techniques.
BUY SELL TRADE!
Do you have gear collecting dust? It might be time to take inventory and unload your underused gear.  Entry to this event includes a table for you to participate in the gear swap. PLEASE RSVP to let us know if you'll be selling anything.
All sales are between the private sellers and buyers. APA will not take a cut of any transactions and is not responsible for items sold. No dealers, please.
More information at www.apadc.com
When     Sunday, August 28th from 11 am – 5 pm.
Where   HOIST Studio – 2807 Merrilee Drive Suite E,Fairfax, VA
Cost
$10 (APA members)
$20 (ASMP, WPOW, NPPA, WHNPA)
$30 general public
Please note that all prices will be +$10 at the door.
You can get your tickets HERE
Categories:
American Photographic Artists, American Society of Media Photographers ASMP, APA American Photographic Artists, ASMP DC, Events, Photography Seminars, Photography Workshops & Classes
American Photographic Artists, APA, DC Photographers, education, Events, Photographer, photography, Photography Semminars, photography workshops, training, Virginia Photographers, workshops