PINTS & PIXELS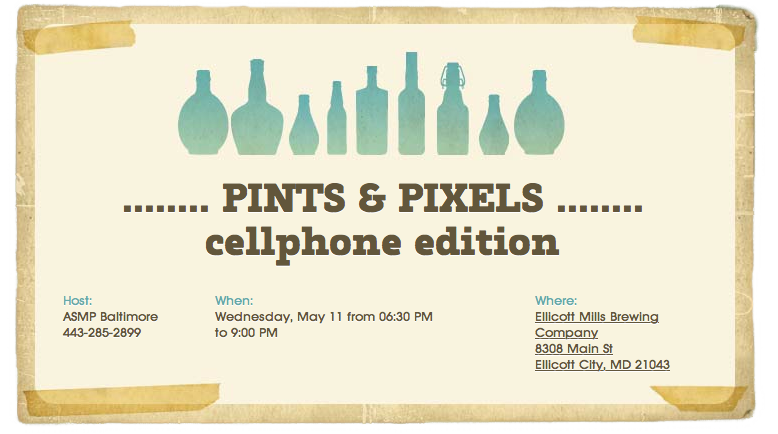 Special love by Service Photo
ASMP Baltimore invites you to a Pints & Pixels party with a twist.
What's Pints & Pixels?
It is an opportunity to get together, have a beer or cocktail, and showcase some of your favorite work with your peers.
What's the twist?
Photos from your cellphone. Put your fancy camera down and show what you can shoot with your phone. You'll also have the opportunity to create some cellphone camera images at the event.
How does it work?
Submit up to 4 images as long as they were shot with your phone.  Images will be projected on a screen for all to see. Service Photo has donated some LED lights and other fun stuff for the cellphone photo booth that will be set up.
When & Where?
Wednesday, May 11th
6:30 pm
Slide Show starts at 7:00 pm
Ellicott Mills Brewing Company
8308 Main Street
Ellicott City, MD 21043
What you need to do:
Step 1- RSVP here
Step 2- Pick up to 4 images shot with your phone and name them like this: YourName1, YourName2, etc.
Step 3- Send in your images by May 10th. Email or text your images to Doug (the great): doug@electromation.net or 443-226-0853
Step 4- Come on out to the party and bring your cellphone camera!
How should I size my files?
The file should not be too large to email or text. You can put a credit on your photo if you'd like it to appear in the slide show.
Questions?
Ask Maili maili.godwin@gmail.com