Photoshop World Washington DC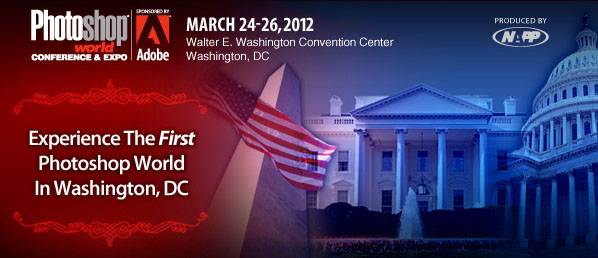 In March, Photoshop World will bring a new party to our nation's capital to offer three non-stop days of informative, inspirational and invaluable photography, lighting and Photoshop training from the industry's best and brightest talents, as well as an industry expo showcasing the hottest products and services on the market.
From new and returning instructors like Greg Heisler and Jack Davis to the addition of two new tracks, the first-ever Photoshop World in Washington DC is sure to be a hit!
The official Photoshop World brochure  will be arriving in the January issue of Photoshop User. The brochure features descriptions of all training sessions and optional pre-conference workshops, a list of participating instructors and much more.
And don't forget to register before Friday, February 17 to save an extra $100 off the registration rate.
Categories:
DC Photographer, Education, Events, Maryland Photographer, Photographers, Photography Seminars, Richmond Photographer, Virginia Photographer
DC Photographers, education, Events, Photographer, Photography Semminars, photography workshops, photoshop, Photoshop CS5, Photoshop World, Photoshop World DC, Virginia Photographers