Google Analytics, AdWords & Tag Manager Trainings in Washington DC
WHEN
(All trainings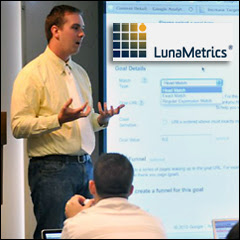 are full-day & incl. lunch)
Mon. Sep. 22 – Google Analytics 101
Tue. Sep. 23 – Google Analytics 201
Wed. Sep. 24 – Google Analytics 301
Thu. Sep. 25 – Google Tag Manager Workshop
Thu. Sep. 25 – Google Adwords 101
Fri. Sep. 26 – Google Adwords 201
WHERE
20 F St. Conference Center, 20 F St. NW, DC 20001 (Union Station Metro)
WHAT
Are you really getting everything you can out of your Google Analytics or Google AdWords? Or are you just another company suffering from "so much data, so little insight?"
Learn from the experts as they explore in great detail how to gather more meaningful data, analyze it better, drive revenue and measure the metrics important to your business. Learn best practices and common pitfalls in a collaborative setting with knowledgeable instructors. LunaMetrics is a Google Analytics Certified Trainer with years of successful trainings.
WHY SHOULD I ATTEND?
These seminars accommodate everything from basic reporting to advanced configuration. This is for both marketers and analysts who are looking for a clear, concise and relevant training which examines real examples and gives useful insights into the best practices. If you're considering making the jump to Universal Analytics or Google Tag Manager, consider the hands-on Google Tag Manager workshop. Check out the course descriptions to find the courses that are right for you!
COST
$499-$799 per training, discounts apply for multiple trainings, GSA discounts