FotoWeekDC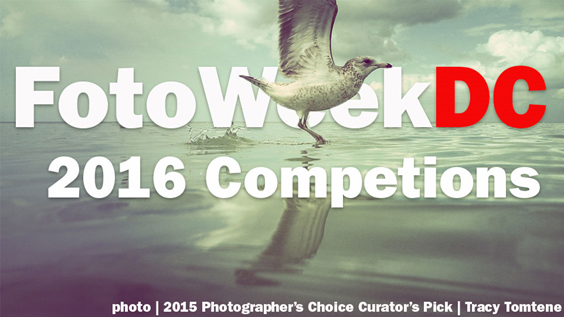 Three unique categories, and a chance to win cash prizes & have your photographs featured in our FotoWeekCentral gallery at the National Geographic Museum during this fall's (November 12-20, 2016) FotoWeekDC festival.
Fine Art: We're not going to hold you back. Express your vision, creativity, and photographic eye.
Photojournalism/Documentary: Visual storytelling at its finest. This category celebrates the photographer's ability to capture a moment that shares information and content beyond what its surface may suggest.
Photographer's Choice: Portraits, streetscapes, still lives, live action shots, nature moments and more – all are welcome in the Photographer's Choice Category. Just keep in mind: great imagery is everything, and letting your creative side REALLY shine is the key ingredient to success here.
Special Early Bird Pricing! Price will increase September 14th
1-4 images – $9/image
5-9 images – $7/image
10+ images – $5/image
Series
Up to 6 images – $35/series
Deadline for entry: October 7th, 2016