ASMP An Evening with Photographer/Director Stewart Cohen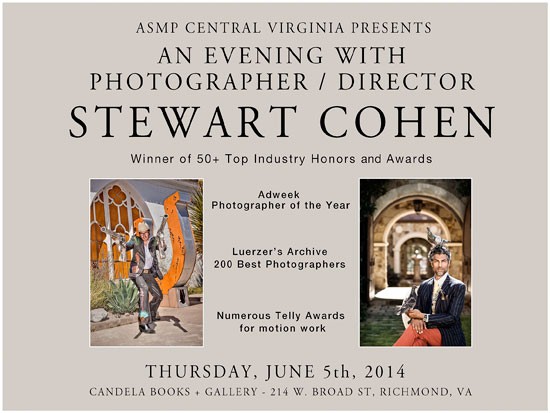 Known for his energy, enthusiasm and his extraordinary ability to work with people, Stewart Cohen has been recognized with more than fifty top industry awards and honors, including Adweek Photographer of the Year, Luerzer's Archive 200 Best Photographers and numerous Telly awards for his motion work.
Cohen will share recent still and motion work and discuss both the creative and business aspects of these continually converging worlds. See more of Cohen's work on his website.
Register here (20% discount with advance online registration)
Date:
Thursday, June 5, 2014
Time:
6:30 PM to 8:30 PM
Social time starts at 5:30 PM (hors d'oeuvres and drinks included)
Place:
Candela Books
214 W Broad St.
Richmond, VA
IN-DEPTH BIO FOR STEWART COHEN
     (2014)— Born in Montreal, Stewart Cohen graduated from the University of Texas at Austin in 1982, and went on to apprentice with internationally known photographer, Helmut Newton.
     Stewart established his own studio in Dallas in 1985. He is known for his energy, enthusiasm and his extraordinary ability to work with people. He is always working on personal projects regardless of his workload in the commercial production world. His studio includes a staff of eight, occupying a large loft in Dallas, Texas.
     Location travel is common for Stewart. He has worked in more than forty countries. Recent assignments have taken him to Macau, the UK, the Arctic and Antarctic (Stewart's seventh continent to visit for his photographic work). Stewart is concluding work on his second monograph, titled Innocent Bystanders, a series of diptychs that focus on people and places in a way that emphasizes the mysterious nature of a traveler's life in a cinematic style. The book is slated for publication in 2015. Recent exhibitions of his fine artwork have included "Dark Elves" and "Ice."
     Winner of over fifty top industry awards and numerous other honors, Stewart Cohen's work has appeared in major advertising and photography publications, and has been exhibited in museums, galleries and corporate offices across the United States. He has been selected by Adweek as Photographer of the Year and featured in Luerzer's Archive 200 Best Photographers. His work has earned international recognition from Communication Arts Magazine, Photographer's Forum, How Magazine and The British Journal of Photography to name a few. He has also received numerous Telly awards for his film work.