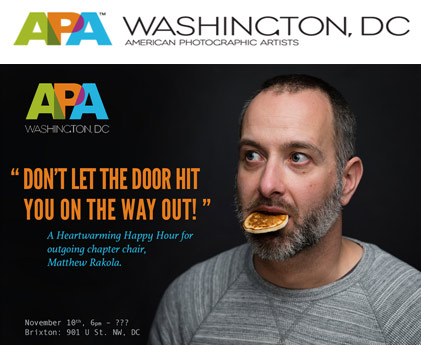 Join us on 11/10 at Brixton, conveniently located at 9th and U St. NW.  Celebrate with Matthew Rakola as he ends his term as Chairman of APA|DC.  Matthew is passing the torch to Jason Hornick, effective immediately. So, let's toast to Matthew, Welcome Jason, and KICK OFF FOTODC WEEK in style!
Where: Brixton 901 U St. NW Washington, DC
When: Thursday, November 10th @ 6pm
Closest Metro: Green/Yellow Line, U Street
A Letter from Matthew:
Dear APA|DC members, and the larger DC photo community as a whole,
It has been a great pleasure to hold the title of chair and to work with the board of the DC Chapter of the American Photographic Artists for the past 4 years. I've really enjoyed meeting many of you and (hopefully) doing just a little bit to help in your careers.
On October 25th I stepped down from this position in order to dedicate more time to a growing family. Child #2 (not his legal name) is due at the end of November, and if Alex is any indication, I won't have much mental energy to spare.
Over the course of this tenure my overarching goal has remained the same: to better the working conditions for ALL photographers in the area. I firmly believe that the tighter knit we are as a community, the more informed, capable and successful we will be as working professionals. In the six years that I've lived in DC, I've only seen the creative talent here grow. This community, regardless of professional affiliation (or not) can compete, shooter for shooter, with any region in the country.
I'm very proud of the work that our local chapter board has put into helping to make this a reality: We've held social events that promote open communication and goodwill between photographers; professional training on all aspects of our industry; presentations and partnerships with the local creative community; and events like our 'Featured Member' series, portfolio review, and in-person referrals.
Jason Hornick, longtime board member has already taken the reins as chair of the chapter. Those of you who were at the portfolio reviews saw first hand the many talents that Jason has already brought to the chapter. I've heard some of his (and the board's) ideas for 2017 and I gotta be honest.–it's going to be a spectacular year and I very much look forward to attending them as a chapter member.
In closing, I'm not going away, just stepping back. Please feel free to reach me at any time at matthew@matthewrakola.com to say hi or offer to buy me coffee. (Just saying– with two young children I'll need it.)
It's a very exciting time to be a photographer in this area, and I can't wait to see how this chapter helps to shape it.
Thanks,
Matthew Rakola