DC Photographers Creative Happy Hour
DC Creative Happy Hour "Let's buy them a Drink"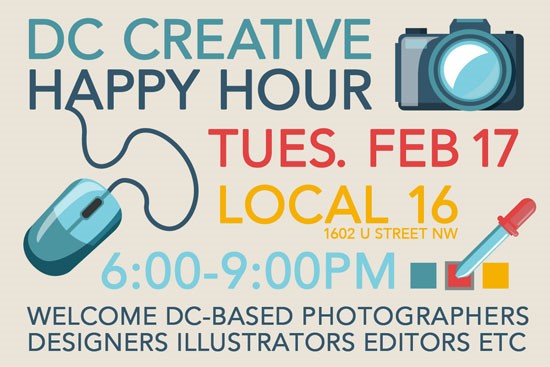 A MEMBERS ONLY event hosted by ASMP DC and APA DC.
Tuesday, February 17th at 6:00 in the evening
The DC chapters of ASMP and APA have invited DC Ad Club, AIGA, AWC-DC, and other movers and shakers in the industry for drinks, light conversation, and general good cheer.
Your registration fee entitles you to one drink and also buys a drink for one of our guests! Lite fare will be provided.
Where
Local 16
1602 U St NW, Washington DC
http://www.localsixteen.com
202-265-2828
Map
Cost
$15.00 – ASMP member
PS: Please no portfolio's, this is a good cheer networking event. Let's keep it friendly.